Acne treatment
Acne Treatments Video
Click on the image above to view a video presentation on the acne treatments and products offered by our qualified dermal technicians here at erase aesthetic services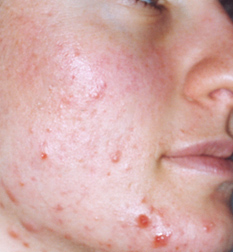 Before Treatment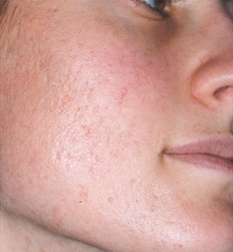 After Treatment
Acne treatment in Melbourne
Thousands of people are troubled with Acne, and there are numerous studies showing a correlation to hormonal disturbances, stress, lifestyle and acclimatization. It is becoming more apparent that Acne can occur at any age, usually beginning from puberty.
At Erase Aesthetic Services Malvern, we offer Acne treatment and management on a multidisciplinary level, where Medical practitioners and Dermal Clinicians work together to reduce the outbreaks, minimise and correct scarring, and give sound advise on how to maintain your results.
Acne treatments work by reducing oil production, speeding up skin cell turnover, fighting bacterial infection, reducing the inflammation or doing all four.
The first and foremost of Acne management begins with determining the degree and type of acne, and prescribing corrective skincare regimen.
The Acne treatment products we specialise in come from Jan Marini Skin Research. The variety of proprietary skincare by Jan Marini has been proven to help both adult acne and teenage acne. Jan Marini Skin Research have accomplished 3 consecutive years of winning:
"The Best Skin Care System Sold in a Doctor's Office".
Our Treatment
At Erase we believe acne is a medical problem and should be managed as early as possible to prevent permanent scarring.
One of our consultant physicians specialises in medical management of acne. Where necessary, hormone assays can be carried out or any possible underlying medical causes can be investigated.
Types of acne treatments at Erase include:
Topical treatments with Jan Marini Skincare Management program
Topical treatments available by prescription.
Oral medication such as Antibiotics, Oral contraceptives, Antiandrogen drugs
What is Acne ?
Acne is caused by a combination of physiological factors:
Excessive sebum production (often due to hormones), the presence of a particular micro-organism (propionibacterium), clogging in the skin follicles and thickening of the outer layer of skin. All or some of these can lead to acne inflammation.
While it may be true that nearly all suffer from some form of acne, the more severe manifestations of acne is believed to have a strong influence by genetics. Heredity is an important factor that determines your skin cell proliferation and sebaceous oil activity and size.
Q and A
How successful are the acne treatment options at Erase?
Many acne sufferers have "tried everything" to improve their skin and feel they've spent too much time and money for too little result. Our consultants can explain our treatment options and why we have such a high success rate in the early stages of management. Often, a simple skincare regime can lead to dramatic improvement without the need for further treatments.
Is my acne likely to return?
Once your acne breakout is cleared and the inflammation settles we can provide ongoing skincare management advice to keep your skin smooth and glowing! Occasional acne breakouts are always a possibility, but with the correct products these are usually managed quite effectively.
Pricing of Acne Treatments
The cost of treating acne varies according to your unique needs and circumstances. At erase aesthetic services, we believe cost estimates should be based on a comprehensive understanding of your needs.
For a personalised and complimentary consultation, Call us on 03 9576 2177 or click here to contact us online.