Erase Aesthetic Services offers premium cosmetic medical, laser and skin cancer services.
In 1997, when we first opened our doors at 188 Glenferrie Road, Malvern, there were no other retail medical aesthetic providers in Melbourne.
Since then, laser and injectable services clinics have sprung up everywhere, in every shopping centre and in every suburb.
We are the same owners, same medical and clinical experts, and many of the same team who have been taking care of our patients and clients since we opened. Each patient is assessed individually and risks are fully explained.
Call in and see our expanded and rebuilt premises. We have additional services to offer, so Erase can really be your one stop location.
While we have a fresh new look, you will see some very familiar faces. At Erase, we take pride in our wonderful and long-standing team who each day try to ensure your consultation and treatment is of the highest possible standard.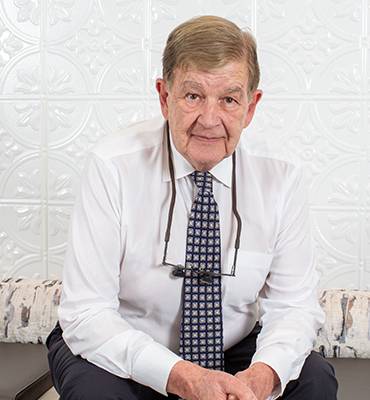 Mr Ian Carlisle AM BDSc MBBS FRACS
Plastic & Reconstructive Surgeon
Medical Director
The founder of Erase, Ian's surgical experience includes at The Royal Melbourne, The Royal Children's, Alfred and Cabrini Hospitals.  He specialised in congenital and post-traumatic facial reconstruction and his understanding of the facial skeleton and anatomy is integral to his approach to aesthetic facial medicine.  Ian will provide realistic and sensible advice and is the main driver of our highly ethical culture.
Ian also consults and carries out minor surgery on skin lesions and skin cancers. Please remember to ask for a referral from your GP before your skin check appointment. This will ensure your appointment/ procedure is partially rebatable from Medicare.
Vivien Gardiner RN BA GAICD
Managing Director
Public hospital trained as a registered nurse, Vivien has many years experience in operating theatres and wound management. The patient-focused culture at Erase is driven in part by her nursing background and her appreciation of the imperative of psychological as well as physical care. Vivien is responsible for governance oversight and risk management, as well as managing team education, ethics, communication and culture.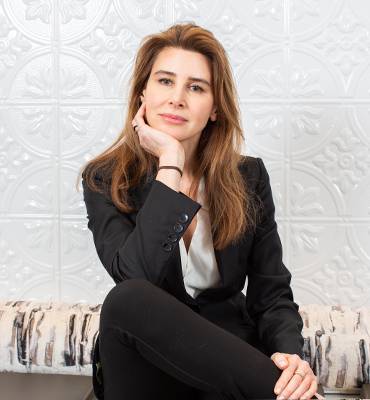 Dr Simone Doreian
Cosmetic Physician
Simone has been consulting and performing cosmetic injectable treatments at Erase since 2008. She has been mentored and trained by Ian Carlisle, Medical Director, as well as by other specialist cosmetic surgeons and physicians in Europe. She is now a respected educator herself, regularly presenting at medical conferences in Australia, Asia and Europe.
Simone's eye for detail and analytical approach to aesthetic artistry make her much sought after as a teacher and provider of injectable services. 
Melinda Morey
Reception /Administration
Melinda has been with the Erase Team for over 14 years; she is very attentive to all our clients and is dedicated to providing excellent customer service which shines through her bubbly personality.
She has experience with the Glo Minerals and Jan Marini range, and is always keeping up with the latest skin care trends.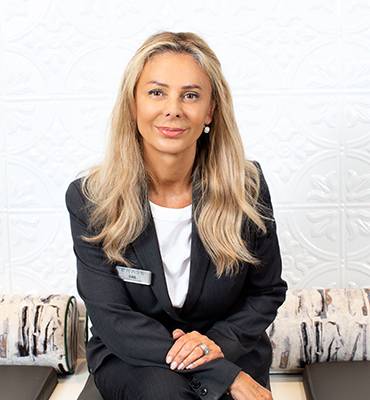 Gail Williams
Reception /Administration
Gail has been with the Erase group for over 10 years, she devotes her time at the Erase clinic and Jan Marini Head Office.
Her down to earth charm and formidable organisational skills are a great comfort to all our clients. She has knowledge and experience with the Jan Marini products and is a great asset to the team.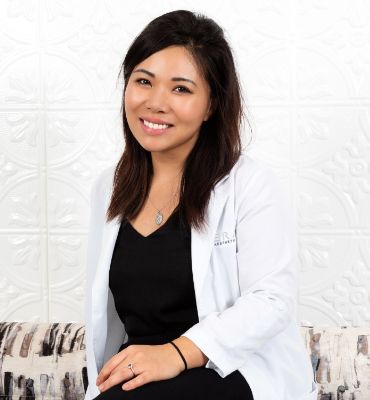 Maria Nagaoka
Dermal Clinician (BHSc-CDT)
Maria is one of our Senior Dermal Clinician who has been with us since 2006.
Maria holds a Bachelor of Health Science in Dermal Therapies.
Her specialty lies in skin science, wound care management and medical laser systems.  Utilising the most advance clinically validated ingredients from Jan Marini Skin Research Maria help others learn how to maintain their individual skin type.
As part of the team Maria continually attend seminars, conferences, and conduct research trials.
Maria is fluent in English and Japanese, and currently studies Chinese Mandarin. Her dedication to customer service and attention to detail is eminent, and enjoys to nurture her clients.
Jacqui Kruk
Dermal Clinician (BHSc-CDT)
Senior Dermal Clinician Jacqui Kruk holds a Bachelor of Health Science in Clinical Dermal Therapies after graduating in 2004 and is a member of the Australian Society of Dermal Clinicians (ASDC).
Jacqui has over 10 years of professional experience in the industry and 8 years of IPL and laser. Jacqui takes a special interest in the treatment of sun damaged, pigmented and photo-aged skin using Jan Marini Skincare, and the latest laser technology.
Jacqui also enjoys maintaining acne and improving acne scars. As a member of the ASDC Jacqui attends annual conferences, clinical workshops and lectures to keep to update with her skills, new technique's and advanced treatment standards.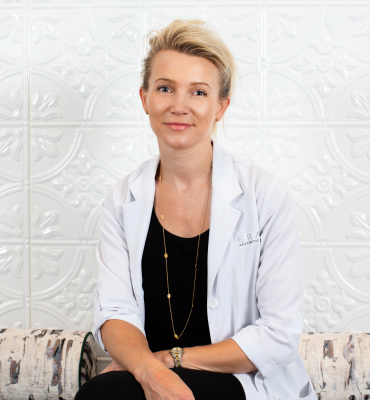 Kylie Christie
Dermal Clinician (BHSc-CDT)
Kylie has been part of the Erase Team since 1997 as a Senior Dermal Clinician and holds a Bachelor of Health Science in dermal therapies.
She has extensive experience in the Non-Surgical/Skin Rejuvenation & Anti-Aging industry.
She specialises in lasers and her particular interest is in Hair Removal, IPL (Intense Pulse Light) systems. Kylie now works part-time and enjoys raising two little boys.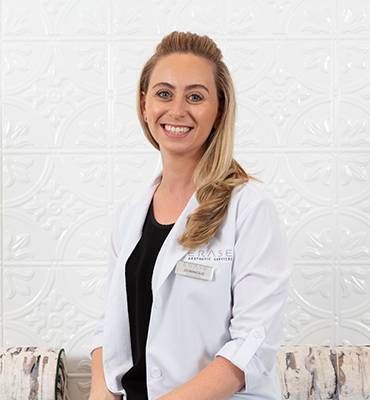 Dominique Koukas
Dermal Clinician BHSc-CDT
Dominique has been working in the area of patient health care since 2006.
She is a qualified Dermal Clinician who graduated in Bachelor of Health Science in dermal therapies in 2012.
She expresses her passion about the science of the skin by specializing in paramedical treatments such as microdermabrasion, peels, diathermy (electrodessication), Venus Freeze "Skin-Tightening" and laser therapy.
From working with such a quality range of equipment and Jan Marini skincare, Dominique designs treatment plans for each of her clients to reach their goals and accommodate their needs.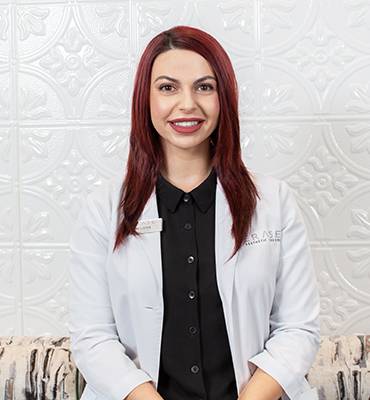 Melissa Lauricella
Dermal Clinician BHSc-CDT
Melissa holds a Bachelor of Health Science in Dermal Therapies and has a passion for skin health. She enjoys all aspects of dermal therapies but has particular interest in resurfacing and anti-aging procedures.
Melissa believes consulting with a holistic approach is essential to deliver a results driven treatment plan tailored to each client.
As a member of the Australian Society of Dermal Clinicians, Melissa keeps up date with training and emerging treatments by attending their annual conference, clinical workshops and lectures.
Rebeccah Collidge
Dermal Clinician BHSc-CDT
Rebeccah, a tertiary educated Dermal Clinician, lives and breathes all things skin.
Upon completing a Diploma of Beauty Therapy in 2008, and a Bachelor of Health Science (Clinical Dermal Therapies) in 2012, she has worked alongside some of Melbourne's leading Plastic Surgeons, cosmetic nurses and Allied health professionals.
Rebeccah specialises in providing evidence-based cosmetic solutions for prevention, treatment and management of skin disorders and skin health.
Rebeccah undertakes a holistic approach when recommending topical therapies, therapeutic interventions and non-surgical cosmetic solutions for patients and their skin needs.
With a professional manner and warm nature, you can feel at ease knowing your skin is in good hands.
Have a question or wish to make a booking? Enter your details below:
Monday to Friday: 8am – 5pm  / Saturday: 8am – 4pm
Move slider to the left to see After Image